Written by:
Gonçalo Caeiro, Co-Founder & COO
Digital Transformation is everywhere, ranging from boardrooms to operational teams. Simply put, businesses rely more and more on technology to operate and transform their business processes.
This is where nearshore software development comes into play. Nearshore centers of excellence provide the additional development resources you need to achieve your business goals.
In the '90s, the main deciding factor for moving software development abroad was cost. Consequently, a large number of software centers were displaced to India. However, current trends indicate that European and North American companies are changing their strategies. Below we explore some critical factors for partnering with a nearshore center in Portugal.
1. Access to Talent
Companies are struggling worldwide to access software developers. In Europe, there are about 6.5 million active developers. That may seem like a large number, but it is estimated that the current shortage of developers is approximately between 0.5 and 2 million in 2020.
With such a large shortage, the market became inverted. The average software developer's salaries increased along with their scarcity. That, in turn, increased the attrition rate across the entire software industry. The offshore software centers, like those in India, became inaccessible for medium and large-size companies. Only the very large who establish themselves offshore can manage and deal with a highly competitive market for talented developers.
This poses a challenge for the remaining companies. As Digital Transformation becomes pervasive, virtually all companies need to increase the size of their software development teams. The problem is that most of those companies are not specialized in IT.
A nearshore operation is now not solely about cost but rather access to talent at a sustainable cost. What does that mean? It means that cost is not the primary factor in decision-making as it was in the '90s. It is still in the equation of course, but the main problem now is getting the right developers.
Portugal is ranked #13 worldwide in investment in and development of home-grown talent and also in skilled labor availability, as stated in the last IMD World Talent Ranking 2019 report. Concerning the flexibility of the labor market, Portugal ranks #13 in ease of hiring foreign labor in The Global Competitiveness Report 2019 by the World Economic Forum.
2. Culture, Culture, Culture
The software development process has also evolved. New methods, like Agile or Kanban, require a deeper, tighter, and more flexible integration between phases of development and software development teams, including people from the business side.
It also means that software specs become more "agile" in the sense that it is expected that the development team is much more aware of the core business concepts and implications. Gone is the time when a full document packed with features was delivered to the development team.
The nearshore software operation has to be in sync with your company. This may seem trivial, but it is not. The distributed teams must be in sync. After all, we are all humans. A lot of problems come from miscommunications when you misunderstand or perceive a message differently.
Each country has its own culture and way of doing things. It is the adaptability of each nearshore operation that will ultimately determine its success. Every software project has its own challenges, ups and downs, and difficulties, but it is up to the distributed teams to operate as a single unit for the project to surpass expectations.
3. Security & Quality of Life
Motivation is what makes us tick, get out of bed 2 hours earlier, or, in some cases, lose a sense of time. Some motivational factors could include project challenges, goals you hope to achieve, or a desire to make an impact on the universe around you.
And then there are the so-called hygienic factors. These are the factors that have an impact on our satisfaction if they are not met (e.g. salary). These hygienic factors apply both to people as well as to companies.
Remember that the market for software developers is hot. Thus, they can easily choose where they want to go.
Security is of paramount importance. People want to live in a safe place with their family and raise their kids in security. For some of us, this is trivial. For many others, security is a blessing and a dream. A nearshore operation must be placed in a secure environment. Software development is both a technical job and also an art. Developers require peace of mind to create that great line of code, algorithm, or screen that will be loved by all of your customers.
In terms of the quality of life, there is a lot of talk about millennials, but you know what? Quality of life is not just about millennials! Who doesn't like great food, sunny places, beaches, mountains, beautiful landscapes, or thriving cities? In this sense, your way of life is not just a hygienic factor but a wellness factor as well.
After years in the top 10, Portugal has just reached the top 3 destinations for expats in The Top Expat Destinations for 2019. The country has also been distinguished as World's Leading Destination four times in a row by the World Travel Awards.
4. Infrastructure
As a business, your next nearshore operation is an extension of your company. For "near" shore, you want that to be as "near" as you can.
You'll require an awesome fiber connection so that you can have seamless access to software development infrastructure, no problems running HD video calls, or dealing with the transfer of large volumes of documents. Everything is in the cloud and you don't want the productivity tax of not having good enough internet access.
Portugal co-ranks #1 in the EU in broadband penetration, along with Denmark, Finland, and Sweden, according to the European Innovation Scoreboard 2019. This is an indicator of the country's innovation-friendly environment.
Infrastructure also means having fast access to the nearshore center. You'll sometimes want to go there or bring the nearshore team to go to your headquarters (HQ)—once we are able to beat coronavirus. "Near" could mean close to an international airport with direct connections to your location, but it also means good hospitality, hotels, and a good transportation network.
In terms of accessibility, Portugal is also among the most competitive countries in the world for Railroad density (#8), Road connectivity (#14), and Airport connectivity (#30), according to the World Economic Forum.
5. Communication Skills
For teams to work together, people need to communicate in an effective way. Currently, English is a de facto standard and good English becomes critical in a multicultural, multinational world.
Interestingly enough, the smaller countries are where you often find better English communication skills in Europe. The reason for that is that many of those countries did not have enough critical mass to translate every single school textbook, software application, or dubbed movie.
In those smaller countries, the average moviegoer views films in their original language and with their original soundtrack. Those countries also receive a large inflow of tourists from a variety of nations and cultures whose communication skills go well beyond the English language. They are used to working within diverse teams, which is a critical quality for a nearshore software center.
In the last IMD World Talent Ranking 2019 report, Portugal ranks #7 in the world for Language Skills meeting the needs of enterprises.
6. Business Context
Imagine you are a bank and your nearshore center is building your digital customer onboarding. Now imagine that the nearshore center is located in a country where there isn't a single bank doing digital onboarding. Can you imagine explaining every aspect of the experience you want to deploy?
By "near" shore, we mean exactly that. "Near" also means near the business and cultural context. Your nearshore team must have a strong understanding of the business concepts and ideas you want to deploy. If you are deploying an innovative music streaming service, then it's better that your team is already familiar with music streaming services. A lot of that "soft" info is already there in the mindset of nearshore managers, developers, and testers.
A thorough understanding of the nature of business for effective planning and problem-solving is closely linked to technological progress and innovation. Portugal is the overall best-performing country in the Innovation dimension (increases in innovation over the last decade) in the European Innovation Scoreboard 2019, leading a group that includes other 14 Member States. In the European Commission's report, you can read that "Innovators, Innovation-friendly environment and Attractive research systems are the [country's] strongest innovation dimensions."
7. Talent Recruiting
You may be tempted to create your own nearshore center close to your premises. It makes sense if you are big enough and starting from teams of hundreds of developers. Until you reach that size, however, you will find it will be much harder than you initially thought.
Finding the right place in the right city will be a challenge. You will have to incorporate the company, manage accounting and taxes, recruit the right recruiters, understand how to communicate and evaluate the candidates, and manage the onboarding process.
Those who try out this path invariably find themselves with a high attrition rate, poorly managed teams, and costs much higher than initially predicted.
Access to the talent pool from an established, reputable nearshore center makes all the difference. Candidates will answer ads and send CVs to well-known companies with good reputations. It is challenging for a foreign company to acquire talent. Even large multinational corporations think it is easy to attract skilled developers. Nothing is farther from the truth. Although candidates are initially attracted, multinational companies soon discover retaining talent is far from easy.
8. Flexibility
"Near" also means "flexibility." Next quarter, you may want to start a new workstream and might need a different skill set to add to your team. Your nearshore partner will provide you that agility and flexibility. They already know your business and culture because they are an extension of your company and an important partner in providing the flexibility you need to succeed.
"Near" also means an uncomplicated partner, low on bureaucracy. You do not need to create a new process for communication and document permissions that slow down your software development instead of speeding it up.
Summing Up
Opting for a nearshore software development center is the next natural step in a highly interconnected world. You are already running multi-site teams, either in sales, logistics, or finance. Why not expand that to software and reap all of the benefits?
Different regions, countries, and cities have different value propositions. Contact us to learn why Growin is a preferred partner for many US and European companies.
About the Author
Gonçalo Caeiro, Co-Founder & COO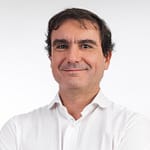 I believe in making the world simpler through innovation, technology, and collaboration. My specialities are Management at CxO with a focus on Strategy, Partnerships, Marketing and Finance.
– – – – – – – – – – – – – – – – – – – – – – – – – – – – – – – – – –
---