Is there a need for your business to simply survive the (increasingly fast and intense) technological developments, while trying to find the best technical capabilities for your goals? Why if your company can thrive with the IT outsourcing strategy (and the right partner)? 
IT Outsourcing is much more than a measure to reduce operational costs. Nowadays, betting on an IT partner is considered as the most important strategic step for a company to stay competitive. 
In this article, we dive into the IT Outsourcing world. We'll understand how this type of service can add value to your business and, in the end, to your clients. To do this, we'll talk about the three main strategic areas in which IT Outsourcing can benefit your business: savings, talent acquisition and flexibility. 
1. Saving Time Is Money
On average, relying on the help of an IT Outsourcing partner is more cost-effective than taking on the direct and indirect costs of hiring and training a new person in your IT team.
Compare the IT Outsourcing costs with the internalization of an employee and consider the costs of the possibility of failure to hire. That's months of your company resources that could have been used for something more productive. In fact, this study shows that 46% of new employees who are hired end up leaving the company in the first 18 months.  
Operational Costs
It's well known that a recruitment (and hiring) process is accompanied by direct expenses – from the advertisements of the available job opening to the crucial investment in a quality recruiter, and technical assessment tests required before a new person is hired. 
By using IT Outsourcing, all of this can be circumvented and handled by your technology partner. In the long term, the operational costs for your company are lower. 
Time
As people used to say: "time is money". And that's exactly what you can lose in the process of recruiting and selecting a new employee. To find the right candidates, you need to invest time. That time is stolen from the development of your IT project and the integration of the new hire.  
On the other hand, if you leave the whole process in the hands of a trusted IT Outsourcing partner, you gain time and the technical skills that you need to meet the timings of your project. The time you have is only invested in the project itself, and not on the selection and recruitment of an IT talent.
Capital Not Required
An IT Outsourcing partner provides you a complete service that an IT project requires. This means that you can save not only in the operational costs, but also in the capital that is required to have for a successful IT project (for example: software and hardware acquisition that you'll not need after delivering your project). This avoids waste, that's the truth. 
By saving this capital, you can redirect your financial efforts for other priorities of your business, such as your commercial and marketing team.
2. Find The Right People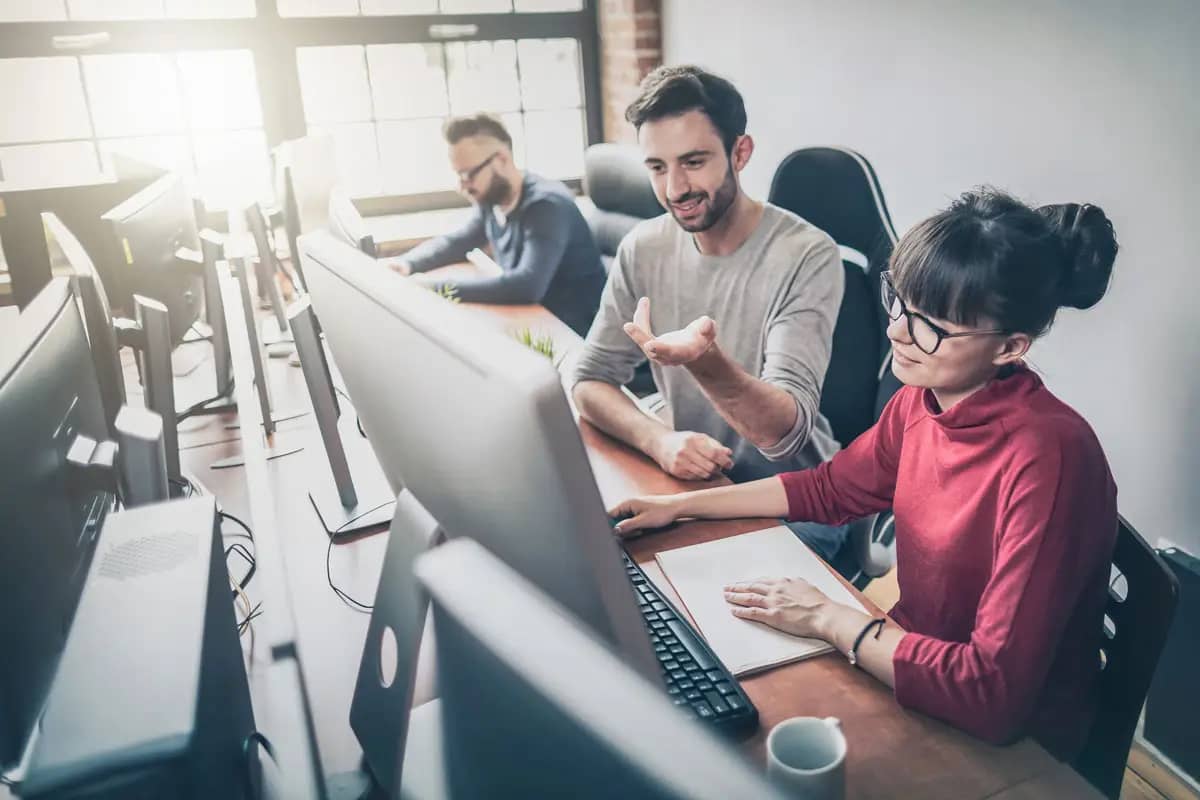 One of the greatest advantages of having an IT Outsourcing partner by your side is quick access to the best technology talent on the market. You gain a direct line to the most competent IT people who help you analyze three very important things: the challenges, speed, and different perspectives that compose the technology. 
Technology Challenges
Let's be honest: hiring a person with the necessary IT skills is increasingly challenging. The investment in technology is increasing more and more – and so is competitiveness. 
The COVID-19 pandemic and remote work have intensified this technological gap that existed (and still exists) in companies. This is reflected in a KPMG study: 65% of technology leaders reported hiring challenges in 2020. 
How can an IT Outsourcing partner help? With the technical and technological expertise that your business needs. 
That being said, and according to this Harvard Business Review article, it's pertinent to mention that 80% of high-quality technical capabilities for business, technology, and data science are found in European countries – such as Portugal. 
The Fast Advances In Technology
If there's a proof that we're witnessing fast advances in the technology field, it's the wave of venture capital funding in Artificial Intelligence (AI). With the right IT Outsourcing team by your side you don't need to worry about the market demands to keep up with these new technologies – be it data analysis, AI, robotics, or NLP. 
The Technological Perspective
Raise a hand who thinks that, nowadays, a project doesn't have a single technological component. Even if technology isn't at the core of your company, you can (and should) use an IT partner to give you an inside perspective on the technical requirements needed for a project. 
Just like a software development company can benefit from working with an external team that gives you a different perspective on what is a good product and a high quality one. 
An IT Outsourcing partner like Growin can answer all the challenges mentioned above. We select and train the technology consultants your business needs today, tomorrow, and next year.
3. Gain The Necessary Flexibility
In a highly competitive market, you need speed, agility, and the ability to scale to power the growth of your business. An IT Outsourcing partner can help you achieve these requirements.
To Accelerate The Development Of Your Projects
With the time you can save by using an IT Outsourcing service, you can also reduce your response time. Your processes become more efficient, and you can respond to your customers' needs faster. 
To Enhance Its Growth, On A Large Scale
Is your company ready to make a big move with new projects? At, Growin, we provide the technology assurance you need if you want to scale your business quickly. 
To Know When To Slow Down
When you have internal IT teams it can become more complicated to slow down or stop (temporarily) the development of a project. That means you will have to lose employees. However, with an IT Outsourcing partner, a project break is just a break for your business – and one that can be restarted as soon as possible. 
To Concentrate 100% On Your Core Business
By externalizing the software development of your IT project, you can direct your strategic planning on what is the focus of your business. Focus your energies, human resources, and time to innovate in your core products and services. This creates the necessary opportunities to boost your business. 
At The End Of The Day, You're Adding More Value To Your Customers
Let's be practical: an IT outsourcing partner can help you to boost your ability to add more value to your customers. By getting high-quality IT services quickly, you make your company more agile and competitive with the ability to innovate and focus 100% on the customer. 
Whether you're thinking about your digital transformation, expansion into new markets, or optimizing the efficiency of your internal teams, an IT partner should be included in your strategic plan.  
In Growin, you can count on an IT Outsourcing partner that wants to grow with you. 
---