Having an effective recruitment process is a clear goal for any company – whether we're talking about an IT company, or any other. After all, it's the biggest investment a company can make, and it's only with the right people that a business truly flourishes.
That is why, through time, recruitment also became a priority to any business. However, the right way to recruit IT talent is constantly evolving to keep up with the new habits of job searching.
Nowadays, the power to decide lies in the hands of the candidate, who has access to all the detailed information, both on the offer and on the company.
As a consequence, recruiters and decision makers had to adapt and start resorting to what we call Inbound Recruiting. This concept is about attracting candidates with valuable content, trying to establish a connection and, somehow, win them over.
In challenging years like these past few, it has never been so important to invest in a recruitment strategy that can guarantee good results.
In this article, we will share with you the 3 steps we follow here at Growin, to recruit the best IT talent out there – which can all be adapted to any other area of expertise.
Step 1:

Share useful and relevant content with your candidate
This first step is 100% aligned with the first stage of an Inbounding Recruitment Strategy. It's the very first moment you start building a relationship with your audience.
For a candidate to be able to decide whether or not to join a new company, there's a need to get to know it first. It is estimated that, right now, about ⅔ of the application process is digital.
This is the stage where research is conducted and as much information as possible is collected about the opportunity and/or the company.
That being said, companies like Growin should try to guarantee that all the information is available, so that the candidates can have a better understanding of how the company works, what it would like to work there – and with that specific team.
So how can a company share and promote this valuable content after all? It's quite simple.
From technical articles and business-like content in a Blog, to having a strong presence on social media (LinkedIn, Facebook, Instagram, Twitter), and even a profile on platforms like Glassdoor. These are simple and effective ways to show what a company's culture is all about.
Social media, for example, is a great way to bring awareness to internal initiatives, such as: team building events, knowledge sharing sessions (for example, Growin promotes monthly GrowinX Talks – now online).
Besides all these, it's also crucial to have a structured Careers Page on the corporate website, where all the benefits of working for the company are listed, and anyone can find the most frequently asked questions (Q&As) as well as a brief description of the recruitment process and all the job opportunities currently available.
Step 2:

Keeping up with the market trends
A good service is measured through its response to necessities – technology or talent wise – in the market.
For that, it's vital to have a Recruitment team perfectly aligned with the Account & Talent Management team.
At Growin, our recruiters are always active and connected to potential candidates, conducting interviews in the safest way possible – through online platforms.
Our Business Managers keep their eyes open for any opportunity that might surface in the market – whether national or international – to provide a quick and proper response to the needs of our clients.
To deliver a quality IT service to our clients, it's crucial that we insure technical excellence from our software developers.
Over the last 5 years, Growin has built an irrefutable reputation by providing all our team members with continuous training, 100% adapted to each and every one of their goals, and in line with the market's needs.
How? By establishing partnerships with universities (for example: Brunel University) and other initiatives that can motivate the team and keep everyone growing.
Step 3:

Implement an integrated recruitment process
Having an integrated recruitment process means you can have all your teams in sinc: from IT Recruitment (first point of contact), to Human Resources and Account Management, and even to the Marketing team.
At Growin, the recruitment process is focused on the candidate's objectives and expectations, both professionally and personally. Here, we look at our candidates as a whole.
First of all, the candidate has an interview with the IT Recruiter and with the Business Manager.
On a second stage, the candidate's skills are put to the test and a Technical Manager will evaluate the performance. If after the technical evaluation (and human one), there's a sense of "perfect fit" between the company and the candidate, the onboarding process can begin.
However, the victory is not yet yours. A candidate is not to be taken for granted. It's important to keep investing in your candidates and create the feeling of being part of something unique. Why? Because that's how a company grows and gets the so-called "Brand Ambassadors".
They're the ones who help create value for their peers and, consequently, make your whole team grow. They are essential in attracting more IT talent who identifies with the company's culture.
At Growin, we encourage a culture of life/work balance and we invest in continuous training of our biggest and best assets: our collaborators.
We believe that happy and talented people are the ones who can change the world: one code line at a time. That's why we wake up everyday with one purpose in mind: "We Develop People Who Develop Technology".
In short...
An effective recruitment goes through 3 stages that complete each other:
1 – create and promote useful and informative content for your candidates;
2 – keep up with the market trends to make sure you can quickly respond to all needs (internal and external);
3 – maintain a close relationship with all team members, so they can become brand ambassadors themselves and help attract new talent.
For this small circle to work, it's essential to have a clear and transparent communication flow between all the teams involved.
If you're looking for the perfect IT talent for your project, let's chat. We're always up for a new challenge.
About the Author
Joana Ochôa, Content Coordinator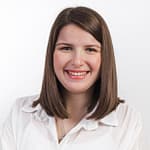 I am a hardworking young lady who is crazy about pandas and cannot resist a piece of chocolate. My biggest dreams are: to be a mother (one day), to travel around the world, to write and publish books and to leave my mark in the world.
– – – – – – – – – – – – – – – – – – – – – – – – – – – – – – – – – –
---