Nowadays, it is increasingly common for companies to hire external software development services. According to the latest forecast by Gartner, IT spending on outsourced development and IT services is rising by 4.7%, representing a market worth € 939 billion.
Outsourcing IT teams can not only help you reduce operational costs but also deliver projects faster, on time, and on budget. But before choosing an IT outsourcing partner, it is crucial that you evaluate the following 10 aspects:
1. Project Needs
Before deciding whether you need external development help or not, it's important to evaluate and understand what skills your in-house software development team already possesses. This will help you avoid overpaying for know-how or extra services your company might not really need.
For instance, maybe you have a highly skilled backend team but you're missing the frontend know-how to implement responsive, highly interactive user interfaces for your business app.
2. Technical Expertise
There are several outsourcing companies that specialize in specific technologies, whether for software development or customized software applications. Teams focused on a particular area of expertise usually have a greater technical knowledge of market tools and trends.
Here are some questions you can ask yourself before choosing your IT partner:
What are the array of IT languages that they work with?
What kind of methodologies do they work with?
What kind of training and updating sessions do they promote?
How are the professionals selected and recruited by the IT Partner?
Would I trust my company with this IT team?
This last question brings us to another important aspect you need to consider when choosing an outsourcing IT partner: market reputation.
3. Market Reputation
Delighted customers are often the best marketing channel a company has access to. Looking for references will help you make a better decision, as you will be able to easily disregard vendors with bad reputations. Try to figure out which companies they have worked with before and contact them directly if you have the chance.
This type of market research can save you from bad purchasing decisions and potential future troubles.
4. Financial Capacity
When we talk about the financial capacity of a company, we do not only refer to the capacity to cope with financial problems, but also to the partner's investment capacity. For instance, will your IT service provider be able to hire high-quality professionals in a short timeframe?
Along with the company's financial condition, you need to be sure of its potential for growth, as this will also impact your own business.
Click here to download our free eBook on "How To Choose The Right IT Service Partner."
5. Time Zone
If you're in the same time zone as your IT partner, that will facilitate communication during different steps of the project—both with developers and project managers. This is an important aspect for teams working seamlessly together since response time is often critical in an IT project (and in business performance too).
Thus, it's important that the IT partner you choose has a similar schedule and understands your language, culture, and overall needsーwhich brings us to the next aspect you need to evaluate in your IT partner: the cultural fit.
6. Cultural and Environmental Fit
A company's culture is a powerful indicator of business success. It is the key to employee engagement, performance, and productivity. Thus, it is important that your IT partner's culture fits yours. If you have a cultural and environmental fit, it is more likely that you will communicate better, work in a more effective way, and more easily achieve common goals and KPIs.
7. Flexibility
In the ever-changing Information Technology industry, the ability to adapt—and to do it quickly—is absolutely key to keep relevant and succeed. The right IT partner should be flexible and capable to provide you a software development team that gathers different and complementary competencies and who is ready to quickly find developers in the programming languages that your IT project requires.
8. KPIs
Key Performance Indicators (KPIs) are vital when projects are simultaneous and collaboratively developed in different locations, which is the case for remote teams or remote workers. Thus, it is crucial that both teams—yours and your IT partner's—are aligned with the strategic roadmap, the defined milestones, the technical quality standards, and the communication strategy.
9. Price/Quality Ratio
Typically, your choice is between a price-first IT partner or a quality-first one. A price-first partner will often provide a fixed-bid quote for your project/team and tend to be more transactionally focused. Quality-first IT partners, on the other hand, will spend significant effort and resources training their teams and will ensure you proper delivery and execution.
When looking for options, make sure you understand the pricing discrepancies, as they might be tied to different quality services.
10. Communication & Project Management Tools
Communication keeps both parties engaged and aware of updates to the project. If both teams are in different countries, it can make the outsourcing process more difficult. However, don't panic if your partner is located in a different country.
With all the tools and technologies available nowadays, there is no reason for teams not to communicate. The same is true for project management tools. The key here is to know what you want to measure and monitor beforehand.
In order to avoid miscommunication, we advise you to have a single point of contact and treat the project as if it was being done in-house.
Key Takeaways
In conclusion, for large or small, short-term or long-term, minor or mission-critical IT projects, having a dedicated IT outsourcing partner can be a game-changer and result in a real competitive advantage for your business. You just need to find the right outsourcing provider, like Growin, who can help you increase your operational efficiency, reduce costs, and focus on your core business.
Want to learn more about each one of the 10 aspects you need to consider when choosing the best software development team to support your business growth? Download Growin's free eBook about "How to choose the right IT service partner" or contact us directly. We can schedule a discovery call and see how we can help you meet your goals.
About the Author
Joana Ochôa, Content Coordinator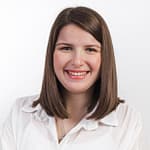 I am a hardworking young lady who is crazy about pandas and cannot resist a piece of chocolate. My biggest dreams are: to be a mother (one day), to travel around the world, to write and publish books and to leave my mark in the world.
– – – – – – – – – – – – – – – – – – – – – – – – – – – – – – – – – –
---