Your company doesn't have to merely survive the technological developments accelerating ever faster on one hand and tech skills shortage increasing on the other hand. It can thrive with the right development outsourcing or nearshoring strategy.
Software development outsourcing has gone beyond an operational cost-cutting measure and is now considered a strategic step to remain competitive.
This article discusses how nearshoring or outsourcing adds value to your business and, ultimately, your customers. You'll learn how software development outsourcing benefits you in three key strategic areas: savings, talent acquisition, and flexibility.
Development Outsourcing Savings
Outsourcing costs less than the combined direct and indirect costs of hiring and training new talents on average. When you compare outsourcing vs. insourcing costs, consider the opportunity cost of a hiring fail: months of resources that could have been reallocated to more productive use. This, in light of a study that shows 46% of newly hired employees fail in 18 months.
1. Cost Savings
The hiring process comes with direct expenditures like job postings, recruiter fees, and pre-employment assessment tests. All these are bypassed when you tap development outsourcing instead.
Furthermore, outsourcing relieves you of that HR nightmare of a new hire deciding to hang you out to dry in the middle of training.
2. Time Savings
Time is money that you are losing during the hiring process. Development takes a backseat as you search for the right candidates—a complex process that chews away your project timeline. Additionally, you also spend the development team's precious time integrating the new hire before any actual work is started.
On the other hand, a development outsourcing team is ready and able from the get-go. You dive straight to spending time on project specs, not on hiring.
3. Capital Savings
A development outsourcing team comes in a package of skills and equipment that a project demands. That means you save on short-term capital spend not just for the new hire but the entire project. These may include additional user licensing, software, and hardware that you won't need after the project is delivered. Wastage is avoided.
Likewise, capital savings means more revenues to reallocate to other business priorities like sales and marketing.
Development Outsourcing Talent Acquisition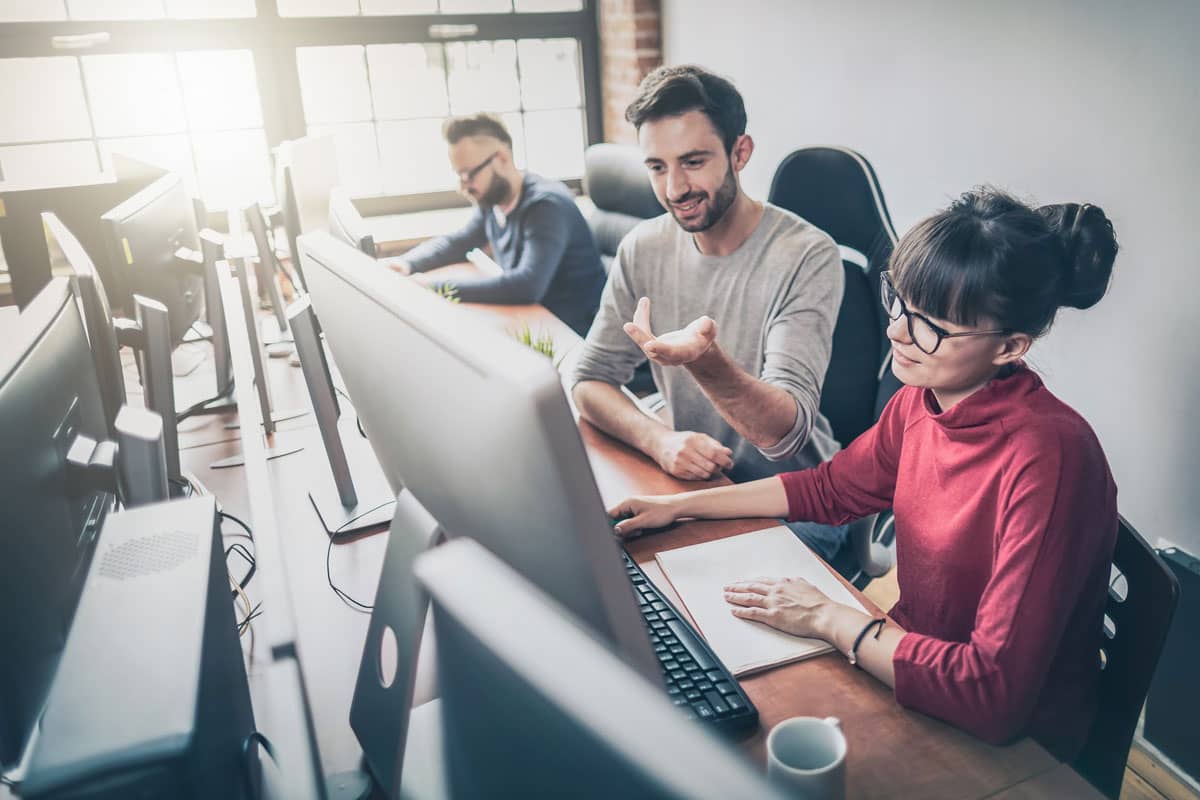 One of the nearshoring advantages and more critical than cost is getting the right tech skills. Development outsourcing gives you access to competent IT people to address three things fast: tech gap, tech velocity, and tech perspective.
1. Tech Gap
Companies today are scrambling to hire IT skills as the world sees a tech investment surge in recent years. The coronavirus pandemic exacerbates this tech gap as businesses turn to remote work, contactless transactions, and cloud computing to mitigate the virus spread. This is mirrored by a KPMG study that said 65% of tech leaders reported hiring challenges in 2020.
Luckily, a development outsourcing team can step in to fill the gap, even if tech skills are in short supply in your region.
That said, companies looking for top IT talents will do well to know that European countries have an 80% global share in the cutting-edge skills for business, technology, and data science. This is good news for our clients: Growin's Portugal-based headquarters sits right in a region teeming with the latest tech skills and the right fit for your tech needs.
2. Tech Velocity
The wave of venture capital funding in AI and related technologies can only mean rapid advances in these fields. A nearshore team means you won't have to play catch-up for tech stacks and skills demanded new technology. These teams are typically at the forefront of big data analytics, AI, autonomous robotics, edge computing, NLP, hyper-personalization, etc.
3. Tech Perspective
Hardly any project does not entail a technological component today. Even if lacking in skills, a non-development company can tap into an outsourcing tech team for an insider perspective on meeting a project's technical requirements.
Similarly, a development company can benefit from working with an external team whose outsider's perspective, not the least experience in the field, may provide the critical difference between a good and top-notch product.
A development outsourcing team provider like Growin can meet the talent sourcing challenges above because its business model directs it to develop a talent pool continuously. It does the job of hiring and training developers in the latest technologies that you need, if not today, possibly tomorrow.
Outsourcing Flexibility and Scalability
In a highly competitive market, you need speed, agility, and scale to drive business growth. A development outsourcing IT team can help you meet these requirements.
1. Speed Up Development
With the time savings afforded by development outsourcing, you can reduce the turnaround time. Not only do your processes gain efficiency, but speeding up development is appealing to your customers who themselves are pressured to reduce their time to market period.
2. Manage Growth
Is your company ready for a windfall of new projects or that rare chance of hitting a major one? IT consultancy companies like Growin provide you with a deep bench of talent should you need to expand operations fast. When you can scale on-demand, you broaden your market reach.
3. Scale Down
Conversely, one that is less discussed in scaling is when you need to scale down operations. Cost-cutting an in-house team means you lose the talent forever. But with a development outsourcing, the work stoppage may only be temporary. The outsource team is ready to resume work once your business bounces back.
4. Focus on Core Business
The development outsourcing team takes care of the development process so that you can direct the strategic planning around your competencies. You get to focus your energy, resources, and time on product innovations and marketing, the key business drivers.
More Value to Your Customers
In the end, development outsourcing boils down to reinforcing your ability to add more value to your customers. You get high-quality IT services fast and within budget, making the company more agile, innovation-driven, and customer-focused.
If you're in a digital transformation, expanding to new markets, or streamlining for efficiency, development outsourcing should be in your strategic plan.
If you need to grow your business and technical capacity fast, get in touch with Growin.
– – – – – – – – – – – – – – – – – – – – – – – – – – – – – – – – – –
---