< Back
February 17, 2021
Why is it important to have a Digital Identity?
A deep dive into the importance of companies' online reviews and their impact on businesses' growth
clutch
digitalidentity
onlinereviews
Growin's Commitment to Helping Businesses
As a consulting firm that provides IT services through specialized software development teams, we here at Growin are dedicated to supporting businesses with their technological needs. There are few aspects more important to a modern company than its digital presence, and we're here to help you build a successful one.
But the right digital face doesn't begin or end at smooth UIs and flawless keywords. Sure, those things are helpful, but we can do a lot more online to help boost our business.
For instance, one of the most effective ways companies can grow their businesses is by encouraging their customers to leave them online reviews. While it might not seem much, online reviews are actually an incredibly important aspect of a company's digital identity.
The vast majority of consumers use sites like Yelp, TripAdvisor, and Google to help them decide where to eat, shop, and visit. For a company, a collection of positive reviews can be one of the most effective and affordable ways to advertise, so be sure to direct your customers to the right platform for you.
However, for clients of B2B providers like Growin who are looking for the right partner for their IT projects, we recommend The Manifest, a platform, powered by Clutch, that features leading companies and agencies across a range of industries, including software development.
Being Recognized as a Top Developers & IT Services Partner in Western Europe by Clutch
We have our own profile on the website, where we've highly ranked thanks to our positive reviews on Clutch—a B2B ratings and reviews firm that connects businesses with the best-fit agencies or consultants they need to tackle their next big business challenge.
Just recently, our Growin team received a very prestigious acknowledgment from Clutch. We are featured as a leading developer in Western Europe. This means that we are one of the forerunners of the development industry here.
To officially receive this award, our Executive Director Daniel Q. Costa mentioned that: "Being recognized as a Top B2B Company by Clutch means the achievement of excellence in helping our clients thrive and reach their business goals, supported by Growin's dedicated, hard-working team."
Summing Up
In a competitive area such as Information Technology (IT), it becomes increasingly important to gather online reviews of customers. After all, who better to talk about what's like to work with us than our clients?
For instance, we helped a digital marketing automation company expand its software development capabilities. Here's what they have to say about our partnership:
"The partnership with Growin feels more like a seamless extension of our own team. We are in frequent contact with many people to successfully coordinate on recruitment, reviews and account management." — Michael Pinnell, Head of Technology, Pure360
We appreciate that feedback, and we know your favorite small business would too. To make an impact on a company of your community today, leave an online review.
In the meantime, if you have a software development need, reach out to us. We'd be glad to share our international and national references.
About the Author
Joana Ochôa, Content Coordinator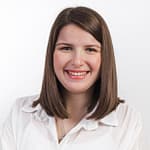 I am a hardworking young lady who is crazy about pandas and cannot resist a piece of chocolate. My biggest dreams are: to be a mother (one day), to travel around the world, to write and publish books and to leave my mark in the world.
– – – – – – – – – – – – – – – – – – – – – – – – – – – – – – – – – –
---